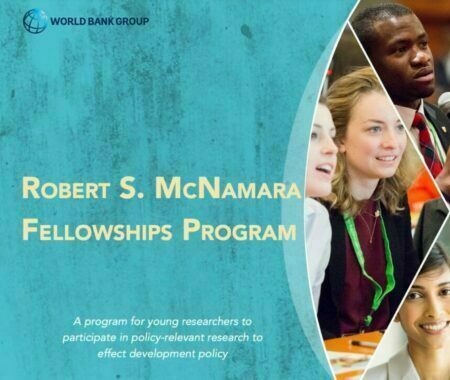 World Bank Robert S. McNamara Fellowships Program 2023
World Bank group are keen to invite as well as welcome young and motivated researchers from economic development countries to take a chance on their ongoing Robert S. McNamara Fellowships Program for the 2023/2024 session.
This fellowship have been mapped out by many as one of the most competitive program and will be valued at $44,880 for each successful applicant as well as other mouth-watering benefits. Successful fellows will learn current research standards, acquire new econometric skills, and network with leading researchers and top external academic collaborators in their field. They will have the opportunity to participate in rigorous policy-relevant research and widen their perspective on potential development questions. Qualified applicants are to take advantage of the opportunity and gain research experience.
SEE ALSO: US Embassy MEPI Leadership Development Fellowship 2023-2024
Fellowship Summary:
Fellowship Sponsor(s): World Bank group
Host Institution(s): World Bank, Washington D.C.
Fellowship Benefits: $44,880
Subject Eligibility: Development Economics
Nationality: World Bank member countries
Requirements and eligibility criteria for the World Bank Robert S. McNamara Fellowships Program 2023:
Applicants must be young researchers in development economics from World Bank member countries with preference for developing country nationals.
Applicants must have completed MA level studies or be currently pursuing a PhD in Economics or other fields related to development.
Applicants must be fluent in English language and be no more than 35 years of age when the fellowship starts.
Applicants are expected to display a passion and commitment for international development research, possess outstanding academic credentials and should be willing to relocate to Washington D.C. at least for the first four months of the fellowship.
SEE ALSO: World Bank & Financial Times' Blog/Essay Writing Competition 2023
Application Procedures for the 2023/2024 World Bank Robert S. McNamara Fellowships Program (How To Apply):
Interested applicants who meets the above requirements and eligibility criteria are expected to submit their application by using the Online application portal and must deliver all supporting documents which is listed below on or before deadline.
Document requirements:
Resume in PDF format
Statement of research interests or statement of purpose in PDF format not more than 500 words
Contact details for letter of recommendation
Writing sample in English (optional)
Code sample (optional)
Application Deadline: April 3, 2023
For more information, Visit the Official Website.