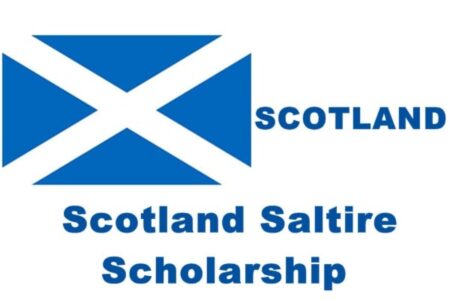 Scotland's Saltire Scholarships 2023 For Postgraduate Students
The Scotland Saltire Scholarship 2023 is currently accepting applications from international postgraduate students who want to pursue their studies in a country known for its exceptional universities and long-standing commitment to academic excellence. This is an opportunity for students to experience studying in a world-class academic environment.
The program provides a maximum of 50 scholarships, valued at £8000 each, to cover tuition fees for a year of full-time study in a postgraduate Masters program at any higher education institution in Scotland. The scholarship is aimed at individuals who have a strong desire to become influential leaders in their chosen fields and have diverse interests beyond their academic pursuits. It presents an excellent opportunity for them to enhance their personal and academic growth while studying in Scotland.
The Scottish Government, in partnership with Scottish universities, provides Scotland's Saltire Scholarships in various fields such as science, technology, creative industries, healthcare and medical sciences, and renewable and clean energy.
SEE ALSO: Scholarships In Netherlands
Scholarship Summary:
Scholarship Sponsor(s): Scottish Government in collaboration with Scottish Universities
Scholarship Type: Tuition award
Host Institution(s): Scottish Universities
Scholarship level: Undergraduate and Postgraduate
Scholarship Worth: £8000, towards tuition fees
Number of Award: 50
Nationality: International Students
Requirements and Eligibility Criteria for the Scotland's Saltire Scholarships 2023 For Postgraduate Students:
Applicants must be International Students.
Have a conditional or unconditional offer of a place at a Scottish university on an eligible course that will be delivered physically in Scotland or via distance online learning or via a combination of both.
Be a citizen of Canada, India, Japan, USA, Pakistan or China (Hong Kong citizens are also eligible as it is a Special Administrative Region of China).
Be able to demonstrate that they can meet the costs of living in Scotland (where this is applicable) and the remaining tuition fees.
Not have previously studied in Scotland.
Not have previously received a Saltire Scholarship.
Meet the language requirements of the course.
Complete an application form and submit it by the closing date of 31 May 2023.
Eligible Courses:
Science
Technology
Creative industries
Healthcare and medical sciences
Renewable and clean energy
Scholarship Benefits for Scotland's Saltire Scholarships 2023 For Postgraduate Students:
The award is £8000, towards tuition fees
The scheme offers up to 50 awards
SEE ALSO: Scholarships In Thailand
Application Procedures for Scotland's Saltire Scholarships 2023 For Postgraduate Students (How to Apply):
Individuals interested in Scotland's Saltire Scholarships 2023 can apply online after carefully reading the eligibility criteria. To be eligible for the scholarship, candidates must have received an offer – either conditional or unconditional – to pursue a qualifying course at a Scottish university.
Application Deadline: May 31, 2023
For more information Visit the Official Website