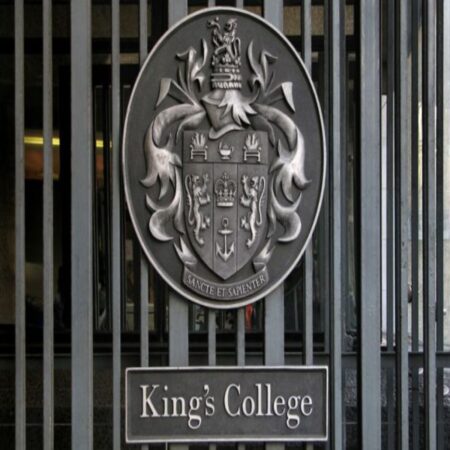 Chevening Scholarships 2023 for International Students at King's College London (Fully-funded)
Applications are currently being accepted for the Chevening Scholarships for International Students at King's College London. This opportunity is open to students who are interested and meet the necessary qualifications. Successful candidates will have the chance to pursue a one-year taught master's degree at a prestigious UK institution for the academic session of 2023-2024.
With the generous full funding provided by these scholarships, recipients are afforded the freedom to concentrate on their professional goals and make the most of an extraordinary experience. During their one-year stay in the UK, scholars will have the opportunity to enhance their professional and academic growth, expand their network extensively, immerse themselves in UK culture, and establish long-lasting positive connections with the country. Upon completion of their studies, scholars will depart the UK equipped with the knowledge and connections necessary to turn their own ideas into reality. While there is no specific profile for a "typical" Chevening Scholar, the program seeks individuals who possess the passion, innovative ideas, and influence required to offer solutions and demonstrate leadership for a better future.
The Chevening Scholarships are prestigious, fully-funded awards designed to support exceptional emerging leaders from across the globe in undertaking one-year master's degree programs in the United Kingdom. These scholarships are available to applicants from more than 160 countries and territories worldwide. The aim is to provide talented individuals with the opportunity to pursue their academic aspirations and develop their leadership skills.
SEE ALSO: Latest Scholarships in UK
Scholarship Summary:
Scholarship Sponsor(s): Chevening Scholarships King's College London, UK
Host Institution(s): King's College London, UK
Scholarship Worth: Fully-funded
Number of Awards: Several
Scholarship Level: Masters
Nationality: International Students
Requirements and Eligibility Criteria for the Chevening Scholarships for International Students:
Applicants must be a citizen of a Chevening-eligible country or territory.
Return to your country of citizenship for a minimum of two years after their award has ended.
Have completed all components of an undergraduate degree that will enable entry onto a postgraduate programme at a UK university by the time they submit their application. This is typically equivalent to an upper second-class 2:1 honours degree in the UK but may be different depending on the course and university choice.
Have at least two years (equivalent to 2,800 hours) of work experience.
Apply to three different eligible UK university courses and have received an unconditional offer from one of these choices by the Chevening deadline.
Benefits for the Chevening Scholarships for International Students:
Chevening scholarships are fully-funded,
Covering flights,
Accommodation, and
Course fees
SEE ALSO: DeepMind Postgraduate Scholarship 2023 at University of Birmingham, UK
Application Procedures for the Chevening Scholarships for International Students (How to Apply):
Applicants interested in the Chevening Scholarships for International Students should be aware that applications are submitted directly to Chevening. For comprehensive information and the application process, it is recommended to visit the official Chevening website.
The selection process for Chevening Scholars typically spans a minimum of eight months, starting from the application deadline until applicants are conditionally chosen for the award.
If you have any general inquiries regarding Chevening Awards, please refer to their website for further assistance.
Application Deadline: November 01, 2023
For more information Visit the Official Website