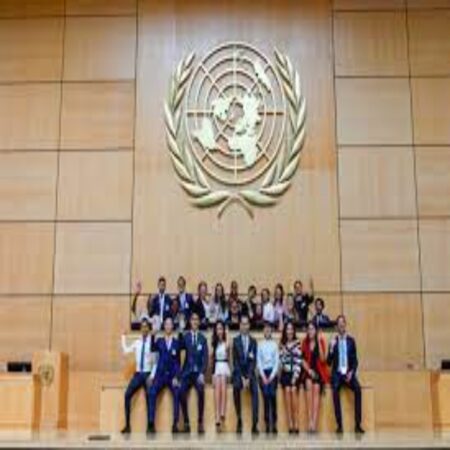 United Nations 2023 Immersion Programme (Funded to Geneva)
UNITAR is excited to announce that it will be organizing two week-long trips to Geneva, Switzerland during the summer. These visits will provide an excellent opportunity for individuals to deeply engage with the city that houses the primary UN offices and gain direct exposure to the workings of the United Nations. People from all over the world are invited to apply for the 2023 editions of the United Nations Immersion Programme.
If participants who have registered for the field visit to Geneva are unable to travel to Switzerland this summer due to COVID-19-related travel restrictions, they have the option to participate in the United Nations Online Immersion Programme at no cost. This allows them to still engage with the United Nations and its activities remotely, providing an alternative experience in light of the travel limitations.
The United Nations Institute for Training and Research (UNITAR) is a specialized training and capacity-building agency of the United Nations. Established in 1963, UNITAR aims to enhance the knowledge and skills of individuals and organizations in developing countries to address global challenges and promote sustainable development. It provides a wide range of learning opportunities and customized training programs in areas such as diplomacy, peacekeeping, environmental sustainability, public administration, and entrepreneurship. UNITAR works closely with governments, UN agencies, non-governmental organizations, and other partners to deliver high-quality training and capacity-building initiatives that contribute to the achievement of the Sustainable Development Goals (SDGs). Through its innovative and inclusive approach, UNITAR plays a crucial role in empowering individuals and institutions with the necessary tools and knowledge to create positive change in their communities and contribute to a more prosperous and peaceful world.
SEE ALSO: Latest Internships
Program Elements for the United Nations Immersion Programme:
UNITAR will host most of the activities in the headquarters of the UN at Geneva, the historic Palais des Nations. They will consist of a nuanced balance between the following elements:
Expert lectures
Training workshops
Multilateral conferences
Private guided tours
Career development sessions
Requirements and Eligibility criteria for the United Nations Immersion Programme:
The Immersion Programme is open to everyone with a deep interest in the United Nations. Participants can come from the public or private sector, NGOs, think tanks and academia. University students and participants from an entirely different background are equally welcome to apply.
In order to ensure the highest quality standards, a maximum of 20 participants per field visit and 30 per online training programme will be allowed. Slots will be allocated on a first-come, first-served basis. At the end of each visit, all participants will receive a UNITAR certificate of completion.
SEE ALSO: King's College London 2023 Commonwealth Master's Scholarships (Fully-funded)
Application Procedure for the United Nations Immersion Programme (How to Register):
We are delighted to have you join us, and we are eagerly anticipating your presence in Geneva this summer. The registration process varies depending on the start date of your chosen program. To register, please visit the UNITAR registration portal (provided below) and use the designated link that corresponds to your desired program.
Application Deadline: Varies by Start Date
For more information Visit the Official Website