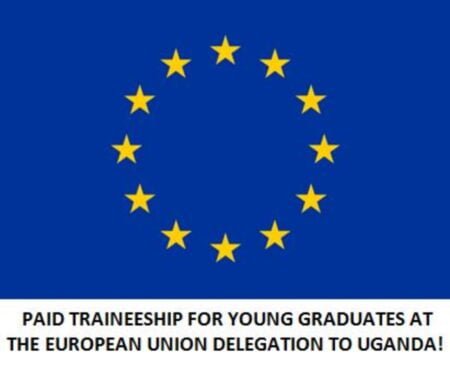 EU Funded Traineeship 2023 for Young Graduates Delegation to Uganda
If you are a recent graduate and have an interest in international relations, and specifically in understanding the responsibilities of a diplomatic mission and how the EU Delegation promotes EU interests and principles in Uganda, you can apply for the Fully Funded Traineeship for Young Graduates at the EU Delegation to Uganda 2023.
The EU Delegation to Uganda is offering a traineeship opportunity starting in June 2023 for a duration of up to six months in the Cooperation Section. The trainee will primarily focus on conducting research, analyzing information, and performing various other tasks as required.
SEE ALSO: Checkout Latest Internship
Internship Summary:
Company/Organisation(s): European Union
Program Type: Graduate Internship
Program Location: Uganda
Available Slot: Several
Basic Qualifications: First degree
Nationality: Not specified
Requirements and Eligibility Criteria for the EU Funded Traineeship 2023 for Young Graduates Delegation to Uganda:
Applicants must have completed a bachelor degree in the field of political science, economics, social science, communications or any other area relevant to EU cooperation in Uganda from a recognized institution.
Applicants must be currently residing in Uganda.
Must demonstrate very good command of spoken and written English
Highly motivated, willing to learn and able to work in a multicultural team.
Able to demonstrate strong sense of initiative, research, writing and analytical skills; Skilled in using Microsoft office tools (Word, Excel, and PowerPoint).
Proven interest for international relations, development cooperation and/or socio-economic development.
Knowledge of Uganda's institutional system and context would be an asset.
SEE ALSO: World Bank Legal Internship Program 2023
Application Procedures for the EU Funded Traineeship 2023 for Young Graduates Delegation to Uganda (How to Apply):
Prospective candidates who wish to apply for the EU-funded traineeship for young graduates in 2023 must submit their applications and accompanying documents to DELEGATION-UGANDA-RECRUITMENT@eeas.europa.eu.
Document Requirements:
A detailed standard Europass curriculum vitae (CV) https://europass.cedefop.europa.eu/ (CVs in other format will not be considered).
A cover letter describing why you want to participate in a EU traineeship.
Application Deadline: 21st April 2023
For more information Visit the Official Website