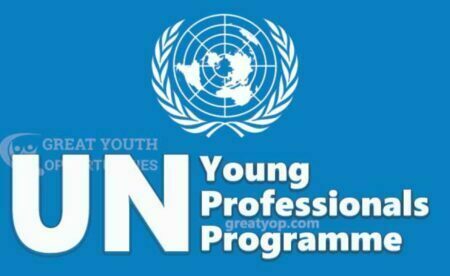 United Nations Career Opportunities 2023 for Young Professionals
The United Nations Industrial Development Organization (UNIDO) is seeking for young, dynamic and highly motivated individuals who have a dream to be of service to others through an international organization with such a mandate.
The Young Professional is anticipated to: (a) produce work that requires a fundamental understanding of concepts; (b) help establish an environment that encourages growth and development; (c) contribute to developing relationships that facilitate the acquisition of information, and (d) accomplish results that establish a basic foundation.
UNIDO is the specialized agency of the United Nations that promotes industrial development for poverty reduction, inclusive globalization and environmental sustainability.
These are various industrial development opportunities at United Nations Industrial Development Organization (UNIDO):
SEE ALSO: DAAD Master Study Scholarships 2023 for All Academic Disciplines
Internship Summary:
Company/Organisation(s): United Nations
Program Location: Vienna, Austria
Program Duration: Staff-Full-time
Available Slot: Several
Basic Qualifications: Graduates
Nationality: All nationalities
Requirement and Eligibility Criteria for the United Nations Career Opportunities 2023 for Young Professionals:
Applicants must have Advanced university degree in Energy, Engineering, Economics, Environmental Science, Finance or other field relevant to UNIDO's mandate is required
Applicants shall not be more than 30 years of age at the time of their application
A minimum of one (1) year of relevant professional work experience is required. Work experience including practical application of the context of technical cooperation activities is desirable
Knowledge of intergovernmental affairs and interagency cooperation on sustainable development and climate change issues gained through studies or through work in the public or private sector is required;
Experience in evaluating the needs, conditions and problems in developing countries is desirable.
Fluency in English and excellent drafting skills are required. Working knowledge of other official language(s) of the United Nations an asset
While technical qualifications remain the priority, UNIDO would also like to improve the diversity of our workforce and therefore welcomes for this position, female candidates from the following countries: Angola, Antigua and Barbuda, Azerbaijan, Bahamas, Barbados, Belize, Bhutan, Botswana, Burkina Faso, Burundi, Cabo Verde, Central African Republic, Chad, Comoros, Costa Rica, Djibouti, Dominica, Dominican Republic, Equatorial Guinea, Eritrea, Eswatini, Gabon, Georgia, Grenada, Guinea Bissau, Guyana, Honduras, Iraq, Kiribati, Lesotho, Liberia, Libya, Luxembourg, Malawi, Maldives, Malta, Marshall Islands, Mauritania, Federated States of Micronesia, Monaco, Montenegro, Myanmar, Namibia, Niger, Oman, Palau, Panama, Papua New Guinea, Paraguay, Qatar, Saint Kitts and Nevis, Saint Lucia, Saint Vincent and the Grenadines, Samoa, Sao Tome and Principe, Saudi Arabia, Seychelles, Timor-Leste, Tonga, Trinidad and Tobago, Turkmenistan, Tuvalu, United Arab Emirates, Vanuatu, Bolivarian Republic of Venezuela and Yemen.
SEE ALSO: SA-GER CDR 2023 Postgraduate Scholarships and Internships
Application Procedures for the United Nations Career Opportunities 2023 for Young Professionals (How to Apply):
To pursue the United Nations' job openings designed for young professionals, you should visit the UNIDO website for information on how to submit your application: www.unido.org.
Application Deadline: April 30, 2023
For more information Visit the Official Website