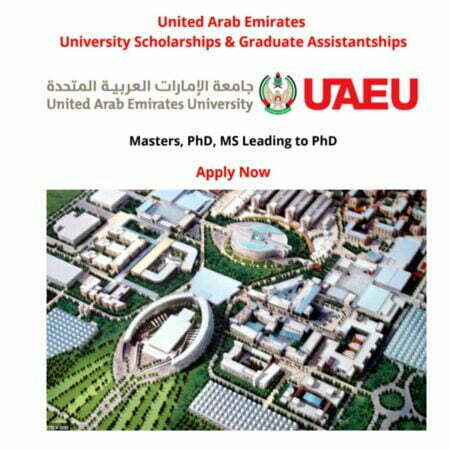 Graduate Research Assistantship 2023 at UAE University
The United Arab Emirates University which is often shortened as UAEU in partnership with College of Graduate Studies is pleased welcome fresh and old graduates who wish to broaden their work ethics to take a chance in submitting an application for their ongoing Graduate Research Assistantship program for the 2023 session.
The research program is opened to students from both Masters and PhD academic level and also encompasses different payment structures which depends on the budget mapped out by the school for each research. Successful applicants are awarded monthly stipends and can elapse for 2 years for Masters Students and 4 years for Doctorate students.
Research Assistantships are granted to Graduate Students to work on research projects under the supervision of faculty members. To be eligible for a Research Assistantship, a candidate must first apply to and be accepted in a Master or Doctorate program at UAEU. For details on the admission, requirements of graduate programs and for applying [click here].
SEE ALSO: University Of Leeds Sanctuary Scholarship 2023/2024
The United Arab Emirates University have proven over time as one of the best public research institution located in Al Ain, UAE. Since being founded in 1976, the university holds the mantle as the oldest in the country and have delivered millions of opportunities to international students.
Program summary:
Scholarship Sponsor(s): United Arab Emirates University, UAE
Scholarship Type: Research Assistantship
Host Institution(s): United Arab Emirates University, UAE
Scholarship Worth: Monthly stipend
Number of Awards: Several
Study Level: Masters & Doctorate Students
Nationality: International Students
Requirements and Eligibility Criteria for the UAE University Graduate Research Assistantship 2023/2024;
Applicants must be international students
Applicants must have an offer to study at the University
Applicants must be ready to enrol in full-time program
You need to be an active graduate student at UAEU.
You need to have Good Academic Standing (GPA 3.0/4.0).
Have no other financial sponsorship.
SEE ALSO: Sustainable Energy Development Scholarship 2023 at University of Pretoria
Application Procedures for the 2023/2024 Graduate Research Assistantship 2023 at UAE University (How To Apply);
Interested applicants who meets the above requirements and eligibility criteria for this opportunity are expected to submit their application by completing this "Application Form" and submit (i.e. scan and email) it directly to the principal investigator of the grant of your interest.
Application Deadline: Not Specified
Checkout the Official Website for more information.